---
The Women of Europe Awards is a new initiative by the European Movement International and the European Women's Lobby, building upon the national awards of several National European Movement Councils. The awards are handed out to honour women striving to advance the European project in their professional or private capacity. The role of women in the European project remains largely unrecognised, and the awards highlight the contribution of women in promoting and advancing European issues, and to increase the presence and involvement of women in debates about Europe and its future.
2016 Women of Europe Awards
The first edition of the Award took place on 1 December 2016, with winners in two prize categories. The winner in the Woman in Power category is Margrethe Vestager, European Commissioner for Competition, who received the jury's award for women showing extraordinary leadership on a European level. The winner in the Woman in Action category is Adela Ionela Dinu, a grass-roots level activist for women's rights in Romania and Europe. She received the members' award for women undertaking extraordinary actions at grass-root level in Europe.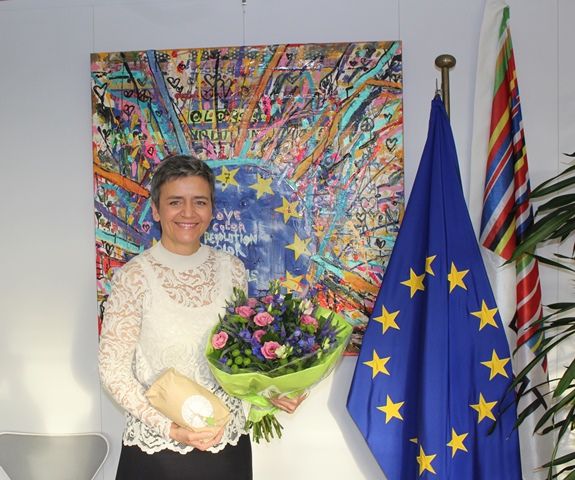 A Jury composed of high-level stakeholders from the cultural, social, media and political sectors chose the first Award winner. The members of the jury included: Anna Diamantopoulou, President of the Greek think-tank To Diktio, former European Commissioner for Employment, Social Affairs and Equal Opportunities; Maria Arena MEP, Member of the Committee on Women's Rights and Gender Equality; Daniela Vincenti, Editor-in-Chief at EurActiv; Rick Zedník, Chief Executive Officer of the Women in Parliaments Global Forum; Eva Paunova MEP, EMI Vice-President; Pauline Mukanza, EWL Board Member.
The other nominees in the Woman in Power category were: Anne Hidalgo, Mayor of Paris; Catherine Day, former Secretary General of the European Commission; Federica Mogherini, High Representative for Foreign Affairs and Security Policy and Vice President of the European Commission; and Marianne Thyssen, European Commissioner for Employment, Social Affairs, Skills and Labour Mobility.
Other nominees for the Woman in Action category included: Annemarie Jorritsma-Lebbink, Mayor of Almere and former Dutch politician; Edit Schlaffer, founder of Women Without Borders; Esmeralda Romanez, Romani women activist; and Nadiya Savchenko, former Ukrainian Army aviation pilot and member of the Ukranian Parliament.
The event was kindly sponsored by ACCA, Burson-Marsteller, Ernst & Young, and Volkswagen. The media partner for this event was EurActiv.
Press mentions appeared in:
2017 Women of Europe Awards
Now under construction. More to come!